Newspaper Club
Newspaper Club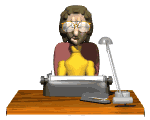 Advisor: Ms. Wirtanen
Extra! Extra! Read all about it! New issues to come!
Club Guidelines: Creativity! Good Writing Skills! Humor! Cooperation!
All of the above traits are needed to be a good reporter. We will be working as a team to create and publish our first issue of the school newspaper. As with any group project, there need to be some guidelines. Here they are:
Be positive! Always give positive feedback to fellow reporters.
Be creative! We will need to "brainstorm" ideas so open your mind to new possibilities.
Be accurate! Yes, spelling counts in a newspaper (especially people's names). Also, make sure you have the facts
Be courteous! We all like it when someone is nice to us, so be nice to others.